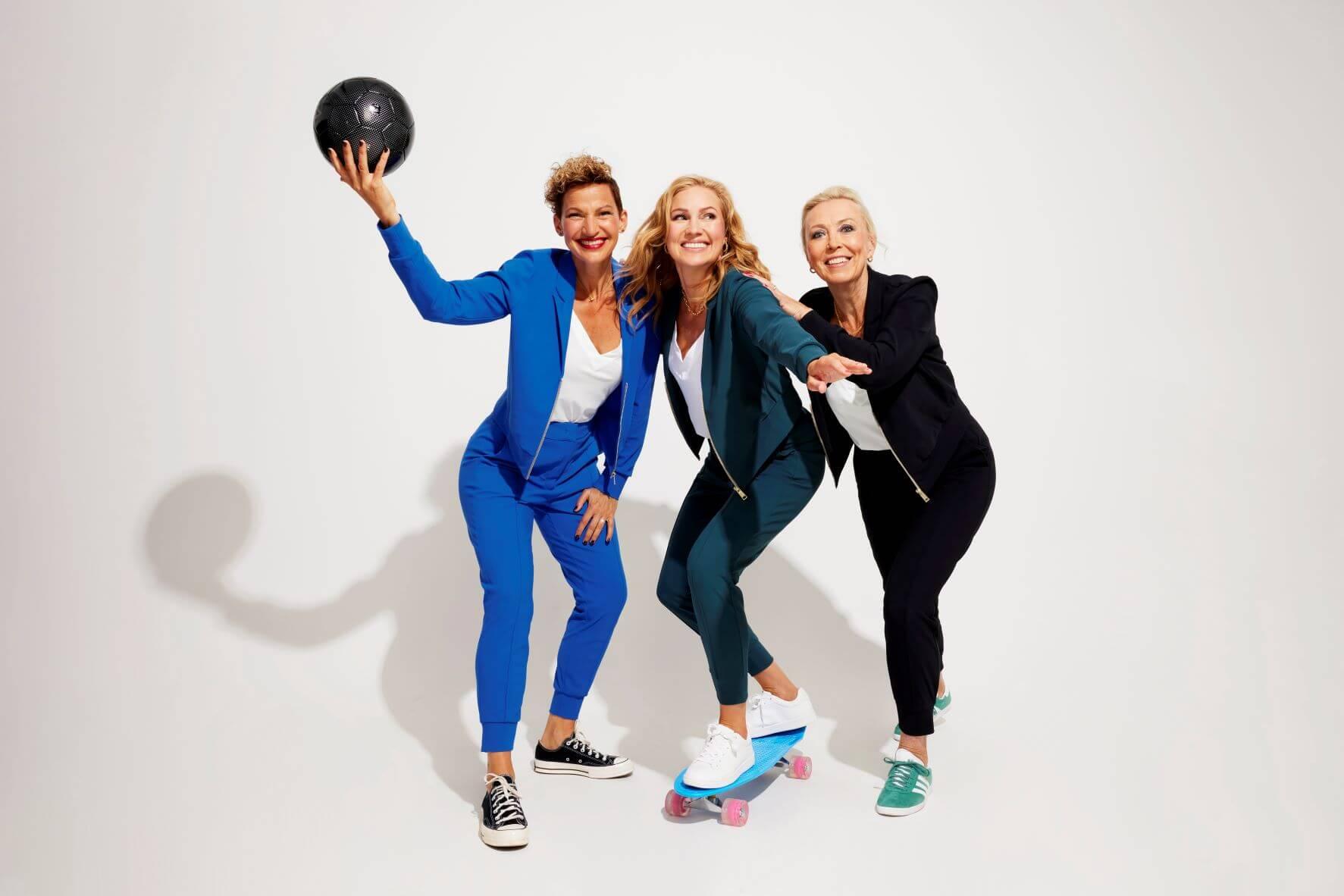 MWH + SUSANNA VILCEK
Susanna Vilcek waited impatiently for MWH's costumes to arrive in stores. Once they did, she pretty much bought the entire collection! Susanna came into contact with MWH through MQ Marqet, where she works as HR manager. It was during the spring of 2021 when MWH made a tour around the country and visited some selected MQ stores.
-I really liked the whole collection from the first moment, everything was so stylish and comfortable. The style suits me perfectly, this is how I usually dress, says Susanna. The combination of Work Trouser, Harmony Jacket and Harmony Strap Top is probably what I have used on most occasions. But now I'm waiting to buy and use the Work Dress, which is my new favorite, Susanna continues and laughs.
When we met Susanna for the first time at the event in Gothenburg, she radiated femininity, strength, joy and enormous energy. We asked her then and there if she would consider posing as a model for our next photo shoot. And as you can see, she accepted and did a brilliant job!
In her daily work as HR Manager at MQ Marqet, Susanna and her colleagues support the company's managers in the areas of personnel, security and internal communication.
- My work is both challenging and very fun! I like working with people and enjoy being involved where it happens, says Susanna. She says that it was tough for the entire fashion industry during the pandemic when it came to adapting the business to restrictions and fewer customers.
-During that time, my family and my training mattered extra! Now business is going well again. We have a fantastic range at MQ and are a committed group who work with great enthusiasm with a view to the future. I am so proud and happy to be a part of the MQ family!
Outside of work, Susanna lives an active life with her husband, three sons and her great passion: Training! Alongside her job as HR Manager, she is an instructor at NatureFitness in Gothenburg.
- It's functional training outdoors, several days a week! We drive outdoors all year round - often early in the morning and also some evenings. I like the morning training the most, then it's magical, she says, smiling widely.
For Susanna, it is the combination of family, work and training that gives her balance in life. Family and exercise are a prerequisite for feeling good and finding a good balance.
- My family and my training give me security and strength, which in turn enables me to perform at work. And on the contrary, when I come into my own at work, I become a good mother and a good fitness instructor.

When we ask our last question if she can share a party trick, Susanna first looks surprised, then she begins to think a bit before laughingly answering: Obviously not!
We simply believe that she has never needed a party trick, her personality does the job! She shares so much warmth, joy and laughter! We at Team MWH humbly thank you for the energy injection and cooperation for this time!
Love, Team MWH